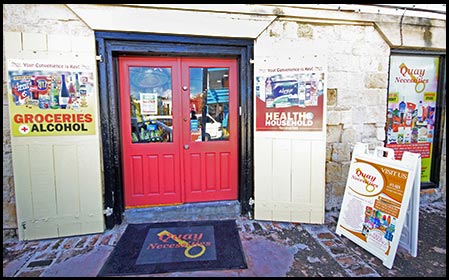 Location:
#14B Redcliffe Quay, Saint John's,
Antigua and Barbuda
Store Hours:
Mon - Thurs: 8 a.m. to 6 p.m
Fri - Sat: 8 a.m. to 8 p.m
Contact Info:
Tel: (268) 462-7829
Cel: (268) 779-7829
Email: This email address is being protected from spambots. You need JavaScript enabled to view it.

Facebook
Quay Necessities is a boutique pharmacy on closest pharmacy to the Cruise ship ports in down town St John's. Convenient opening hours and ample selection makes Quay Necessities a great addition to the wide variety of stores and services in the Redcliffe Quay Shopping district.
From first aid and emergency needs to cold and flu remedies and basic daily hygiene products you will find well stocked shelves and brand name as well as generic alternatives to fit all budgets.
Also available are basic stationary and school supplies, souvenirs and specialty Antiguan products as well as snacks, sodas and a variety of refreshments.