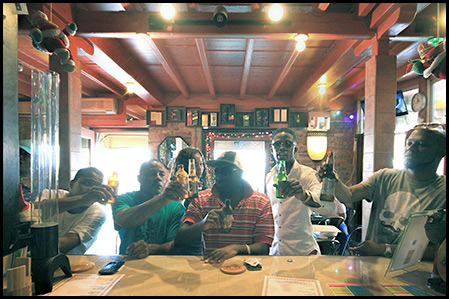 Location:
 Redcliffe Quay, Saint John's, Antigua and Barbuda
Opening Hours:
Mon-Sat: 8am - "Until"
Sun: 12pm - "Until"
Contact Info:
Tel: 1 (268) 736-9800
Facebook
Xcape Bar & Caribbean Cuisine"Recharge Here!"
An all day grab a drink find a friend spot in downtown St. Johns. At the main entrance to Redcliffe Quay you'll find this cozy watering hole. Xcape offers great prices on all beers a full bar featuring all possible premium liquors with friendly mixologists that can certainly find something to satisfy the thirst.
Xcape also offers a daily menu that is always changing. Come in to find some of Antigua's best Caribbean style curry available right here, along with favorites such as Roti and other local specialty dishes. Call ahead to find out what's available; or turn up and be pleasantly surprised.
Specialities: $5 dollar beers, Caribbean food, Good times