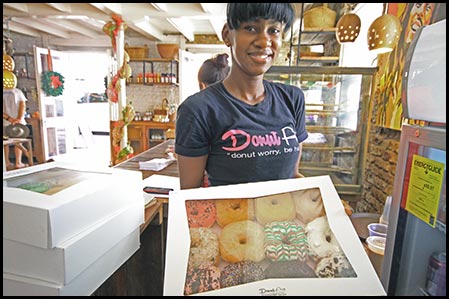 Location:
 Redcliffe Quay, Saint John's, Antigua and Barbuda
Opening Hours:
Mon-Sat 10am - 6pm
Contact Info:
Tel: 1 (268) 780-3222
Email: This email address is being protected from spambots. You need JavaScript enabled to view it.

Facebook
Donut Ace's philosophy "donut worry, be happy"
Donut Ace is a locally founded upstart began in 2015 by chef ALeem C. Edwards, their vision is to become a mainstream food outlet where anyone can order freshly made dough nuts. Whether for their personal delight, that special person,or for an event or party. 
Their love for the arts, and their passion for food, and their dedication towards professional customer service took the form of a round tasty treat called a dough nut. At Donut Ace they strive for prompt and efficient service which complements their spectacular presentation to not only bring you dough nuts, but also bring you a smile!