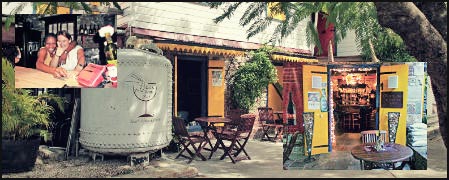 Location:
Redcliffe Quay, Saint John's, Antigua and Barbuda
Opening Hours:
Mon - Sat: 11:00 am - 11:00 pm
Contact Info:
Cel: +1(268) 464-3975
Tel: +1(268) 460-7025
Fax: +1(268) 561-0221
Email: This email address is being protected from spambots. You need JavaScript enabled to view it.
Contact person: Claudine Vierstrate

Facebook  Website
Welcome
C&C Wine Bar
HOME OF THE EXCITING WINES FROM SOUTH AFRICA
Discover
THE PLACE FOR WINE LOVERS
A casual, but sophisticated wine bar – perfect for lazy days and cooling out in the evening – a great place to take in the ambience of St John's.
OUR PHILOSOPHY IS SIMPLE
We only sell wines that we enjoy drinking ourselves.
WINES OF THE MONTH and several OTHER RECOMMENDATIONS
by the glass.
We also sell a good range of Brandies, Spirits, Fortified Wines, Light Snacks and Great Coffee.
Come and sample fabulous wines in a truly relaxed and comfortable atmosphere
Cheers
Claudine