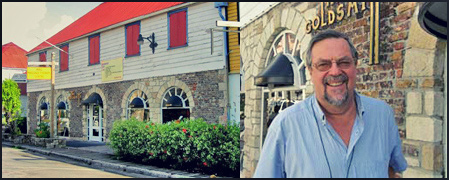 Location:
#11 Redcliffe Quay, P.O. Box 1275,
Saint John's, Antigua and Barbuda
Store Hours:
Mon - Fri: 9:00 am - 5:00 pm
Contact Info:
Telephone: 1 (268) 462-4601
Fax: 268 462-3789
Email: This email address is being protected from spambots. You need JavaScript enabled to view it.
Contact person:
Hans Smit
Since 1981 The Goldsmitty has offered its own unique jewelry in gold and silver, using only the finest of gemstones, collected by Hans Smit, owner and designer, on his trips to exotic locations all over the world.
After finding that many long-time clients as well as many first time visitors are really looking for an authentic Caribbean memory of their trip, The Goldsmitty has created: "The Caribbean Corner". Each design is made with rare conch pearls, hand-cut petrified coral, Larimar, and red and blue amber sometimes with insect inclusions: indigenous gems found only in the Caribbean.
Your "Caribbean Treasure" comes with its own certificate of authenticity and photograph.